Notification on the Launch of IOTX/USDT Swaps on Huobi Futures
Dear Valued Users,
Huobi Futures will launch IOTX/USDT Swaps at 6:00 am on Aug. 13, 2021 (UTC). Using stablecoin USDT as the margin currency, these swaps support bi-directional trading. The corresponding elements of these USDT-margined swaps are as below:
【Read the article on Tiered Adjustment Factors of USDT-margined Swaps >>>】
【Read the article on Index References of USDT-margined Swaps >>>】
【Read the article on Transaction Fees of USDT-margined Swaps>>>】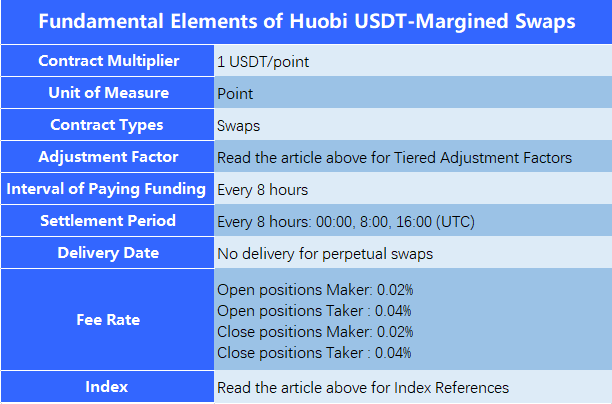 To improve the capabilities against risks and secure users' assets, we will deposit extra insurance funds for each newly-listed swap. Details are as below:

Huobi Futures will launch more swaps in the follow-up work, please stay tuned.
Risk Reminder: Digital asset derivatives are innovative investment products with significant price fluctuations. It is also of high risk to trade digital asset derivatives. Please make decisions prudently and rationally based on your risk preference.
Thanks for your support!
Huobi Futures
Aug. 12, 2021
Download APP: Click here to download for iOS or Android
Find us on:
Weibo: https://weibo.com/u/7311767739
Twitter: https://twitter.com/HuobiGlobal
Facebook: https://www.facebook.com/huobiglobalofficial/
Instagram: https://www.instagram.com/huobiglobalofficial/
Reddit: https://www.reddit.com/r/HuobiGlobal/
Medium: https://huobiglobal.medium.com/
Telegram:
https://t.me/huobiglobalofficial
Huobi Global reserves the right in its sole discretion to amend, revise, or cancel this announcement at any time and for any reasons without prior notice.